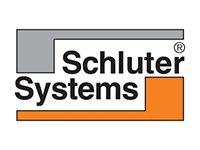 The Idea Of Schlüter®-SCHIENE
A Brief History Of The Schlüter Company
When the young master tile installer Werner Schlüter was laying tiles in a bathroom with five doors, he hit on the idea of using Schlüter®-SCHIENE: this was the beginning of a successful career as an entrepreneur.
The Florentine tiles installed in this location gave Werner Schlüter the idea of using profiles in the mid-1970s. The profile provided a perfect and elegant finish for this rather "complex" tile.
The concept of using profiles fits perfectly into the context of new developments in tile production and construction materials.
The oil crisis in the seventies meant that the firing processes in tile manufacturing had to change. To save energy, tiles are now fired only once. It is impossible, or at least extremely involved, to produce tile trim pieces for corners and edges using this technique.
Also, tiles are no longer laid in a mortar bed, but embedded into special adhesives. The outer edges of the tiles therefore remain exposed and unprotected. The profile quickly proved to be excellent edge protection, and was aesthetically pleasing at the same time. No small wonder that the Schlüter®-SCHIENE became a world-renowned product. The product became the first in a long line of successful products and systems that have made SCHLÜTER-SYSTEMS the largest and most innovative supplier in the industry.  Inventions don't drop out of the sky; they emerge out of practical experiences.
The really successful ideas are often the result of years of experience, combined with a good deal of creativity. And they are always a reflection of the time in which they are created. Today, that young master tile installer's name stands for an internationally renowned brand and company.